Add your hotel to Adventure Hotels of Costa Rica
---
Adding your hotel to the non-profit Adventure Hotels of Costa Rica is completely free and reservations are made direct between you and the guest, meaning there are never any commissions to pay for bookings! Instead of asking for a listing fee or commission, Adventure Hotels of Costa Rica uses a "you scratch my back, I'll scratch yours" concept. Just refer your onward guests to other member hotels, and they'll do the same for you. Then give any anyone who mentions Adventure Hotels of Costa Rica at the time of booking a 10% discount off their rate. Since the discount goes directly to the guest, they are also more likely to use this money saved on other services at your hotel.
At the same time your hotel will be found on the AHCR website so anyone looking for a small, eco-friendly hotel in your area will find your hotel on the map.
Getting started

To add your free listing to the Adventure Hotels of Costa Rica, you need to place a link from anywhere on your website's homepage to the association website. You can use whatever text you like for the link. Try to be creative!
Next, create an account and follow the on-screen instructions. Add your hotel description and all photos you want.
Finally, contact us and we'll activate your free listing. That's it!
Link images (optional)
We also have a couple of images you can use in case you prefer that over text links:

Hotlink address:
https://www.adventurehotelsofcostarica.com/images/full_with_nav.jpg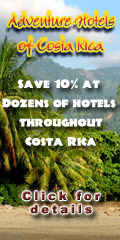 Hotlink address:
https://www.adventurehotelsofcostarica.com/images/banner_vertical.jpg